"Campaign" Sings Different Tune About Politics
Brad Schreiber (Author, screenwriter, lit. consultant, BradSchreiber.com)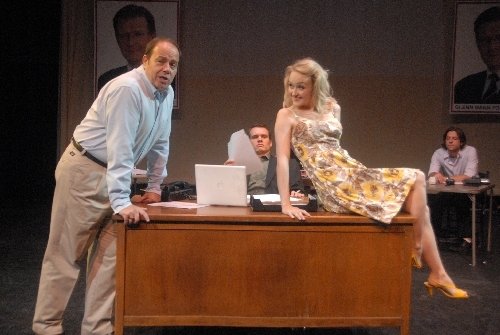 Our current state of politics is so easily lampooned and our expectations for change so effortlessly undercut by disappointment that any political satire, attempting to strike deep within the heart of an audience, becomes an onerous task. Thus, the romantic yet bitter, funny yet biting political musical play Campaign, written by Samuel Warren Joseph, and music and lyrics by both Joseph and Jon Detherage, currently at the Met Theatre in Los Angeles, is surprisingly vivid and entertaining.
Glenn Mann (Brian Byers) is running for governor and he is everything we have sadly come to expect from our politicians, but in an amusing package: glib, two-faced and coincidentally, secretly shtupping his press secretary, Brenda Malloy (Jean Altadel). This comes as no surprise to Mann's wife, Elaine (Barbara Keegan), who looks the other way, as other pol's wives have done, in exchange for material and political success. But Campaign enters new territory in that campaign manager Steve Meyer (Travis Dixon) lambastes Malloy, despite her innate intelligence and his undeniable attraction to her.
It is this dance of barbed witticisms that is the core of Campaign. Meyer zings Malloy on why she is surprised at Mann's infidelity to her, his mistress; and Malloy nails Meyer to the wall on his lack of commitment to any discernible ideology. From the feisty sexuality of a song like "You're Not Man Enough to Be My Man" to the delightful skewering of shallow political platitudes in a number like "Family Values," Joseph and Detherage bring us something very rare, a warm, fuzzy feeling about love in the midst of craven opportunism. Director T.J. Castronovo inventively guides the cast, there are some hilarious phony videos of a campaign ad and news coverage, and Dixon, Altadel and Byers are blessed with not only acting chops but fine voices that will get the vote of even the most disgruntled voter.